---
Products
GroundUp installers use WaterFurnace Heat Pumps. WaterFurnace has a long history of bringing innovative products, accessories and components like communicating controls to the market. The Alliance uses WaterFurnace geothermal heating and cooling equipment because they are designed to meet the needs of your home, provide the highest efficiency, and the greatest energy savings when used in our highly respected Geothermal designs. All equipment used exceed the ENERGY STAR® requirements by a large margin.

---
The 7 Series Technology: Forced Air Applications

In addition to being the world's most efficient heat pump, the 7 Series Geothermal Heat Pump uses exclusive variable capacity technology to provide comfort unlike any system you've ever experienced. While other conditioning systems run at only high and low, the 7 Series scales compressor output and airflow to exactly the level needed for any heating or cooling situation.
The 7 Series can ramp down to 20% of normal operation for the ultimate efficiency and comfort or scale up to 130% output using SuperBoost™ cooling. The exclusive SuperBoost mode is for those brief periods when extra conditioning is needed and ensures guests stay cool and comfortable during summer get-togethers. And because the 7 Series operates over the industry's largest range of capacities (from 20-130%), it provides unmatched humidity control and can even eliminate the need for auxiliary heat in cold-weather climates.
Every 7 Series unit is computer run-tested to ensure flawless performance at start-up—and in the unlikely event it needs to be serviced, your unit is backed up by an emergency heat element and one of the best warranties in the industry.
---
The 5 Series Technology: Radiant Applications
The 5 Series single stage hydronic heat pump is used for water-to-water applications (also known as radiant heating) for a fraction of the cost of a traditional system. These systems offer exceptional comfort without moving the air. The 5 Series can also be used for forced air conditioning when installed with air handlers.
The 5 Series with OptiHeat is available when needed, and is capable of delivering up to 150 degree leaving hot water for radiant floor, baseboard radiator systems and more.
The 5 Series can reduce heating costs by as much as 80% per year. Ordinary boilers and water heaters operate at a fraction of the efficiency of the 5 Series. With skyrocketing costs of fossil fuels, savings potentially will only increase.
---
The Dedicated Hot Water Pump
The alliance's specific design includes a dedicated hot water solution which is designed to provide high volumes of domestic hot water, 100% with the efficiency of the geothermal system. Usually 15-20% of your home's energy costs are related to domestic hot water; a geothermal system can significantly reduce those costs if the hot water is made 100% with the efficiency of the geothermal system, without supplemental electric resistant heat.
Why combining the Heat Pump and Dedicated Hot Water is ideal:
The variable speed geothermal heat pump runs about 30% more efficient than dual stage geothermal heat pumps. It provides unmatched comfort by matching its capacity with the heating and cooling requirements of your home, providing an even - almost draft free - way to comfort you. In addition the dedicated hot water solution can operate at the same time and does not require the use of electric resistance heat. This set up and design can provide 40% - 50% higher energy efficiency than the advanced dual stage heat pumps with supplemental electric heat for your hot water.
---
Example of Forced Air Installation
---
Example of Radiant Installation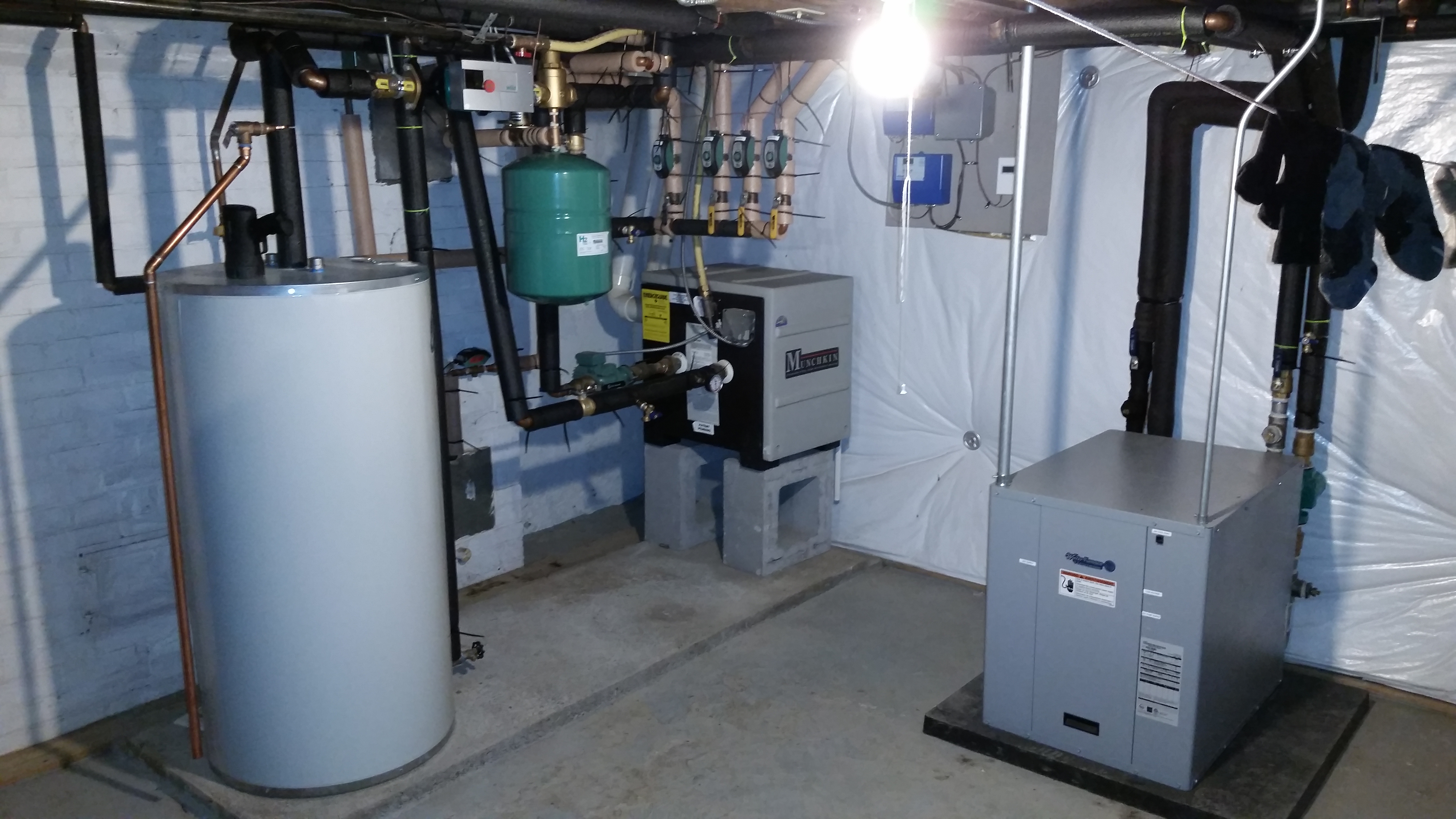 ---
To get started with a Geothermal System Expert Contact Us now!
---